FundLoans State Licensing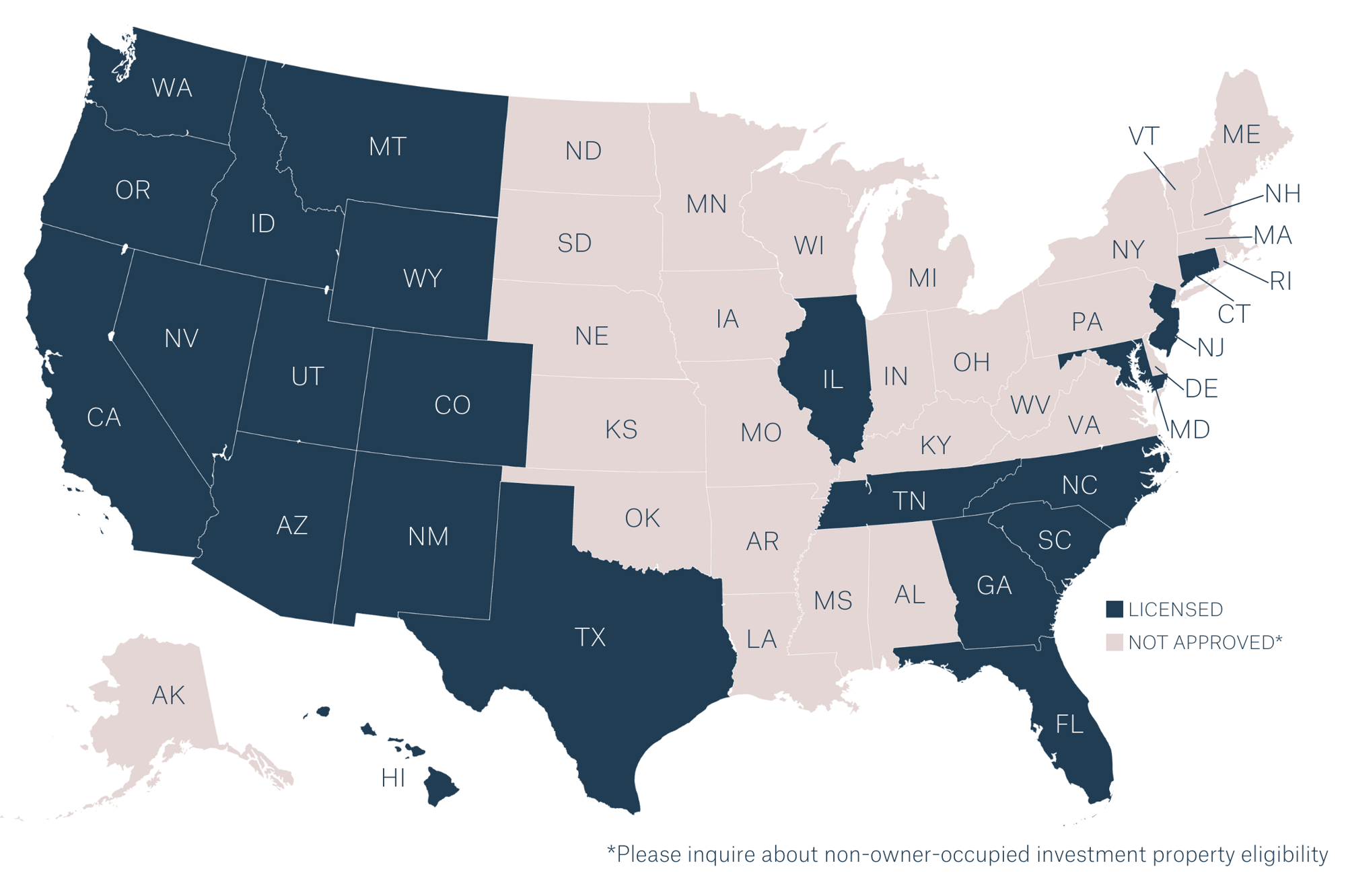 ​State License Information
Arizona
Mortgage Broker License # 0932084​
1734 E. Bost St., Ste. 103, Gilbert, AZ 85295
California
DBO Finance Lenders Law License # 60DBO46086
DRE Real Estate Corporation License Endorsement # 01523132
Colorado
Mortgage Company Registration
Connecticut
Mortgage Lender License # ML-1202262
Florida
Mortgage Lender Servicer License # MLD1392
Georgia
Mortgage Lender License/Registration # 62287
Hawaii
Mortgage Loan Originator Company License # HI-1202262
1007 Hilala St
Honolulu, HI 96825
Idaho
Mortgage Broker/Lender License # MBL-2081202262
Illinois
Residential Mortgage License # MB-6761489
Maryland
Mortgage Lender License # 1202262
Montana
Mortgage Lender License # 1202262
Nevada
Mortgage Company License # 5167
New Jersey
New Jersey Residential Mortgage Lender License
New Mexico
Mortgage Loan Company License
North Carolina
Mortgage Lender License # L-191143
Oregon
Mortgage Lending License # ML-5406
South Carolina
Mortgage Lender License # 1202262
Tennessee
Texas
SML Mortgage Company License, Branch NMLS ID: 1272392
21750 Hardy Oak Blvd., Ste. 102, San Antonio, TX 78258
Utah
DFI Residential First Mortgage Notification
Washington
Consumer Loan Company License # CL-1202262
Wyoming
Mortgage Lender/Broker License # 3200
​
Loss Payee Information

FundLoans Capital
ISAOA/ATIMA
12481 High Bluff Drive Suite #150
San Diego, CA 92130






Disclosures
FundLoans is a dba of FundLoans Capital NMLS # 1202262

​Equal Housing Disclosure:
FundLoans Capital is an Equal Housing Lender. FundLoans Capital does not discriminate on the basis of race, color, religion, national origin, sex, marital status, age (provided an applicant has the capacity to enter into a binding contract), an applicant's income being derived from any public assistance program, or applicant having, in good faith, exercised any right under the Consumer Credit Protection Act, or on any other basis prohibited by law.

Texas Required Disclosure – Consumers wishing to file a complaint against a mortgage company or a licensed residential mortgage loan originator should complete and send a complaint form to the Texas department of savings and mortgage lending, 2601 North Lamar, Suite 201, Austin, Texas 78705. Complaint forms and instructions may be obtained from the department's website at www.sml.texas.gov. A toll-free consumer hotline is available at 1-877-276-5550. The department maintains a recovery fund to make payments of certain actual out-of-pocket damages sustained by borrowers caused by acts of licensed mortgage company residential mortgage loan originators. A written application for reimbursement from the recovery fund must be filed with and investigated by the department prior to the payment of a claim. For more information about the recovery fund, please consult the department's website at www.sml.texas.gov.
Private Fund Division Disclosure: All loan programs and guidelines stated herein are exclusively for financing transactions which are not primarily for personal, family, or household purposes and are not subject to Regulation Z.